We Are Cedars!


Different people,
Same God.
Now that you're here, you may simply want to know more
about us
, our
service times
or download recent
audio messages
.
No wahala!
Any way is a way, but Jesus alone is 'The Way'.
Sunday Service
The Lekki Special Event Center. 55, Admiralty Way (Rd 15 B/stop), Lekki Phase 1

Service time: 9am (WAT)
Midweek Service
The Kairos Hub, Lekki Phase 1, Lagos.

Service time: 6:30pm (WAT)
Within and beyond the walls of the church, this is how we spread the love of God...
Worship, which we define as placing appropriate value on The ONE Whose Presence we cannot do without and Whose absence we cannot afford.
Excellence: when God in HIS splendor created the heavens and the earth, HE took a second look to be sure that everything was good. Excellence is going the extra mile, which is the road less traveled, hence no congestion on it.
Join us at CEDARS House of Grace as we experience God in "Convergence" with @tope_alabi_ on Sunday, March 1, 2020.
Venue: Lekki Special Events Centre.
55, Admiralty Way, Lekki Phase 1.
Time: 9:00am
Save the date and make plans to attend.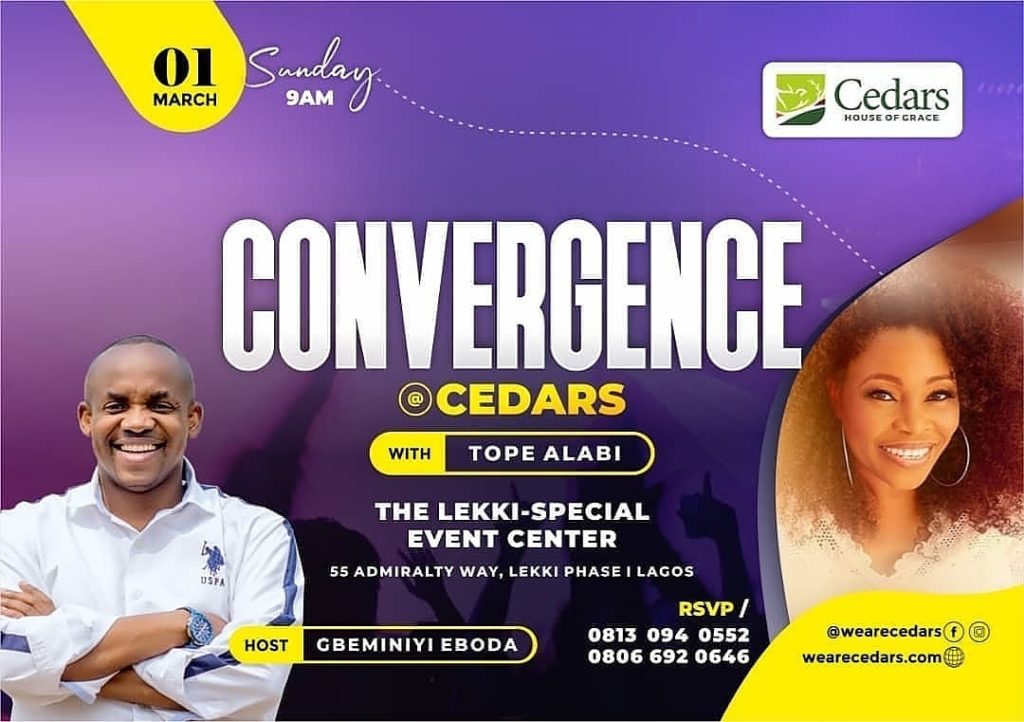 A Christian without a Church is like a child without a family. The 'Let Us' Spirit is The Spirit of Scriptures.
In order to GO FAR in Life, DON'T GO ALONE because loneliness has side effects; it always creates vulnerability.
We are A Church in the Neighborhood and we are here to provide you with WINGS – A Sense of DESTINY and
ROOTS – A Sense of BELONGING.
We are CEDARS and We Welcome You Home!
UNTOLD ARE THE POSSIBILITIES AHEAD OF YOU…
Worship with us
this sunday
by 9:00am at
The Lekki Special Event Center. 55, Admiralty Way, Leki Phase 1
Click here
for Google map directions.
Subscribe to Godly insights
from Gbeminiyi Eboda...
Weekly newletters delivered to your inbox